I am a word hoarder.
Once I hear a new word, I want to use it often.
A) it makes me look smart.
B) it makes me look smart.
I like new words. While watching Big Bang this week, I heard the word "Kerfuffle". I was able to use my context clue finding skills to determine that it meant a "commotion or fuss". I repeated it over and over.
Kerfuffle.
Kerfuffle.
Kerfuffle.
Words are fun.
I also heard a word this week, that was not especially new to me, but it was one that is not in my regualr vocabulary.
Peruse.
I like it.
It sounds much better than the alternative 'browsed" "Looked over" "read"....BORING!!!
So now I am going to look all smarticle and use my new word....
As I was perusing google reader, (see how I did that?)
I stopped for a long time on one blog in particular.
I have been there before, but today I got really comfy.
I took off my shoes- I stayed awhile.
A LONG WHILE.
This is the part where you say
"Squirrels, where were you???"
I was over at Jenn's place: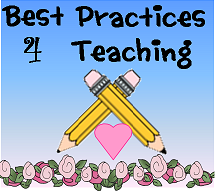 Have you been there before?
I was transfixed!
I couldn't stop reading and learning about Jenn and her work.
You know when you hear a teacher talk about this wonderful resource they have in their building and you are sooooo jealous???
Jenn
is
that resource!
We are going to have to meet IRL for me to pick her brain!!
(Jenn and I are destined to meet because we are in the same state:)
I lifted this little bit of info from her blog-
Jennifer has taught for 18 years, 13 of which were in the inner city with at-risk elementary-students. She married the love of her life and lives happily with her husband, 2 children and 2 cats. Part of the time, her two god-children live there also.
Jennifer has three degrees: B.S. from the University of Tennessee at Chattanooga in Multi-Cultural Education K-4 with a certification in K-8, a M.S. in Education K-12 from Tusculum College, and finally, an Ed.S. degree in Education: Administration and Supervision from Tennessee Technological University.
Jennifer has always been interested in curriculum and development and has worked in her school district to promote the use of standards and with developing curriculum maps through backwards design. She has been the lead literacy teacher in her schools. At this time, Jennifer is both the lead literacy teacher and a second grade classroom teacher. She is responsible for professional development in the areas of literacy, word work, and writing.
Jennifer also writes for Blog Hoppin, Simply Centers, Lesson Cloud, and Connect-a-Blog.
I
also headed over to her Tpt-
Jenn has a HUGE collection of free and paid items for EVERY SEASON and Holiday! I have filled up my cart
!

Maybe we will be lucky enough to get our Misters to drive us to a mini meet up!
I would invite her to my house.
Like to eat.
And hang out- but we are currently trying to rid our house of a smell.
A smell?
Yes, a smell.
My friends tell me that I need to ease up and let the Littles do more for themselves.
So I thought I would give them some choices other than chips and such for after school snack.
I purchased some EASY MAC AND CHEESE mixes and gave very explicit instructions on how to prepare this very EASY MAC AND CHEESE.
This was the end result:
We have taken the microwave apart, bought a new filter, and doused the kitchen with baking soda- thank goodness for pretty days- we were able to open the windows!!!! The smell of burned noodles is AWFUL!~!!!!
Anyone wanna come over for lunch?
Needless to say, they are now back to chips and such for snacks:)
Have a Terrific Tuesday!!